3 months for a MASSIVELY discounted rate of £30! - yes that's right £30.
What can you expect!
Big booking winners at huge odds!

All of our Value Betting picks giving you the edge over the Bookie.

Profitable Football Accas

Daily Accas, Booking Bets, Rolling Challenges, and more.

The Infamous InPlay Bot

Our infamous InPlay Bot scans the markets and tips InPlay football.

Premium Chat Groups

Access to our community chat groups.

Footy Stats Software

Access to our own In-depth Football Statistics Centre.

Staking Plan

All of our tips with advisory stakes for risk management and tracking P/L.
Sign up for the Season Pass
Full Racing Package

Daily racing tips from our expert tipster, Including full write ups and justification with sensible advised stakes. Also a daily multiple place bet, and full downloadable programmes for major racing festivals.

Value Betting Service

Value Betting picks that give our members the edge over the bookies. In depth software that highlights discrepancies between bookmaker prices and chance, this takes the edge away from the bookmaker and into the hands of our members. Covering a wide range of Sports including Horse Racing, Greyhounds, Football & Golf.

All Football Tips

A wide range of Football tips from Daily Accas to Booking Bets, Rolling Challenges and everything in between. Daily selections covering the top leagues and the most obscure leagues as our team work hard to find different angles to consistently make profits.

InPlay Bot Channel

Our infamous InPlay Bot is a unique piece of software that scans the InPlay markets to find us an opportunity in certain games when set parameters are met. Mainly covering first half goal bets, match goal bets and corners. The InPlay Bot finds the matches with the highest potential pre-match outcome and sends automatic alerts to you when they hit a price worth backing, whilst InPlay.

Premium Chat Groups

Access to all our community chat groups and a way to interact with members on a day to day basis. Members will often share their own betting fancies for the day and have produced some nice winners over the years. A fun and friendly environment for each member to interact with each other.

Footy Stats Centre

Bringing you the most in-depth Football Stats Centre that covers every single game in World Football, everyday! Create your own custom filters to quickly highlight games for your own bets or dive deep into the stats for each individual match to really find the hidden gems needed to turn your punts into profits.

Staking Plan

We provide a full staking plan for all our members, within that will be separate pots for 3 individual aspects of the service. We find it vital to stake correctly and remain responsible as it's the only way to ensure you can make consistent profits and track what you're doing. The points system used allows us to manage risk, and also calculate monthly profits as a % for all members regardless of the different bank rolls available to members. Instilling a discipline to your betting is vital to becoming profitable.
Sign Up Now
What is the Season Pass?
With the football season fast approaching now is time to claim your TipMan Season ticket for the full football season!
Not only are you getting daily tips from the UK's top tipsters but you're also receiving daily InPlay bets from the infamous InPlay Bot which is changing the way people bet!
On top of that you get full unlimited access to the TipMan Footy Stats centre with in-depth stats for every match in world football, everyday. The option to create and customise your own filters for easy viewing next time around!
You'll also have full access to all of TipMan Premium including tips from other sports.
Secure your seat and claim your TipMan Season ticket at a massively reduced discount now.
Offer expires on August 11th
Get the Season Pass Here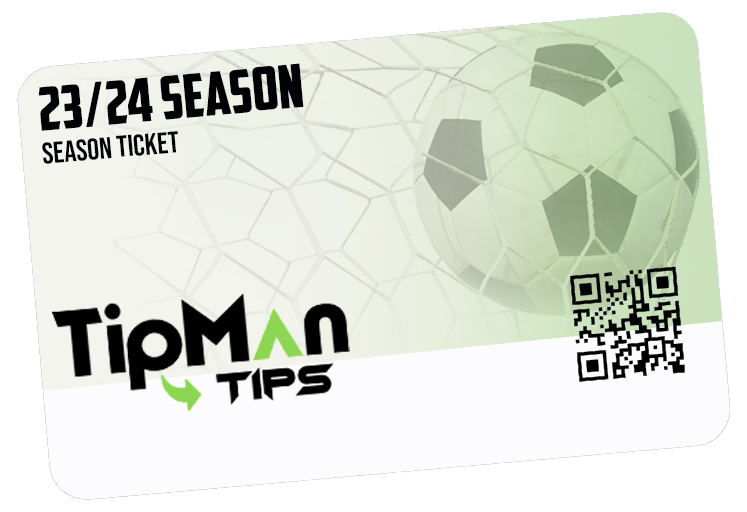 Latest Winning Betting Slips